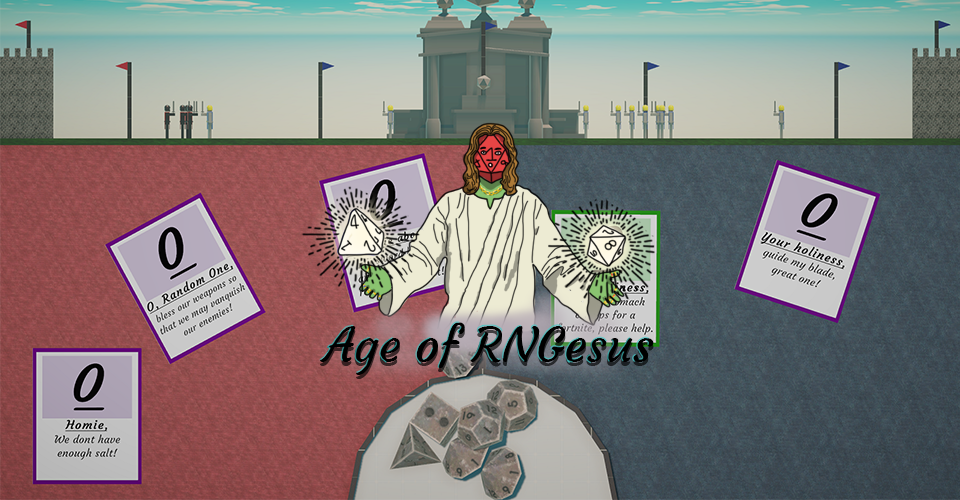 Age of RNGesus
A downloadable game for Windows
RNGesus is among us...
Roll dice to grant blessings to warring kingdoms. Make sure neither side wins so they keep building a shrine to you!
My solo submission to the GMTK 2022 Game Jam and a tribute to Age of War, one of my favorite flash games.
Gameplay:
Use your mouse (LMB) to pick up dice and blessings.
Blessings appear in the form of cards. Roll dice onto these blessings to grant them, the number rolled is the strength of the blessing.
The kingdom's capture control points (these grant wealth) along the map and a kingdom that controls the central shrine will build it. Kingdoms with high fervour and low wealth will build the shrine faster!
Losing soldiers grants that kingdom fervor and costs them wealth.
Special Thanks:
To Max, Mark & Dillon for helping to write flavour text, make models & brainstorm ideas.
Dice assets from Void1 Gaming
Textures from AmbientCG
Skybox from Unity Asset Store
Made in 48 hours for the 2022 GMTK Game Jam! 2nd game jam ever, first solo entry. Woo hoo!
Install instructions
Unzip the folder and run "Age of RNGesus.exe" to play the game. For more instructions, take a look at the readme.txt or the pause menu in-game.